find out who your boyfriend is texting app free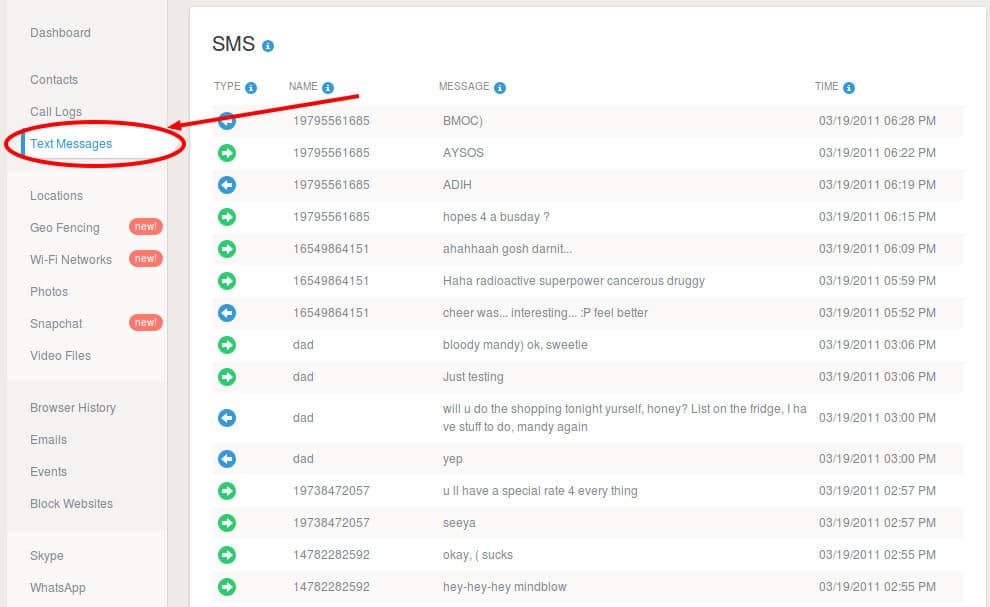 You need to follow the steps below:. Access the target computer and download the app onto it. Once installed, log in your account and it will scan and display the existing backup of target device. It will take some time to extract the data. After that, you can view all the files you want of target device. For "Messages", you can find it in the left sidebar of your dashboard. Now the market is flooded with many spying apps and some advertise for the ability of remote installation without touching the Android device at all.

Be careful that there is no such technology can achieve that goal due to Android phone limitations. Truth Revealed! Then how can you spy on your boyfriend's text messages? Don't worry, KidsGuard Pro for Android comes in handy.

It is a comprehensive cell phone monitoring app and helps you keep track of your boyfriend's cell phone activities without him getting to know. Your email address will not be published. HerNorm is a community-supported website. We may earn a small commission on purchases made through our links. Learn more. Contents 1 Signs that your boyfriend could be texting someone else.

He is always using his cell phone. When you text them, they seem to reply slowly, but they are always on their phone when you are around them. Look on his phone. Confide in his friends or your friends about your concerns, maybe they can help you. A lot of solutions online will claim to be able to do so remotely. If an app claims to be able to do so, they are lying to you. If you can briefly access the phone, you can set up Spyic on it.

Spyic for Android is a top-tier phone monitoring app, compatible with all the latest Android smartphones and tablets.

Once you have Spyic set up, it operates invisibly. Here are some reasons why Spyic for Android is such a special app:. You won't have to access your boyfriend's phone ever again. It is as simple as that. Now you know that you can use Minspy to monitor your boyfriend's phone, seeing if your boyfriend is cheating on you is very easy. When you have got to the part where you are on Minspy's dashboard, you can find a list of features for you to use on the left hand side.

If you want to use any feature, for example- to see your boyfriend's WhatsApp chats, you just have to go to that tab. The WhatsApp monitor is present under 'Social Apps' tab. Here you will see your boyfriend's texts as well as the person he is texting. That is not the end of it.

With Minspy, you can also read your boyfriend's SMS messages, Facebook messages, Instagram messages, and any other messages as well. In fact, even if your boyfriend deletes any message, you will still find it on Minspy.

Superb for spying on text messages and iMessages, you will not find a better text spy app, or cell phone spy app than PhoneSpector. Good option for any phone. It will extract iMessages and text messages from all iPhones and iPads. To use the no-jailbreak solution you do not need to install any software to the target phone. Data from the iPhone or iPad is extracted and displayed in your user account which can be viewed from your cell phone, tablet or computer.

All you need is an Internet connection or a cellular data connection. There are no additional costs or monthly fees associated with the purchase of this program. The customer support is among the best there is. Questions get answered quickly and issues get resolved immediately. It is my top choice for spying on iMessages and text messages of any Apple device and Android device.

The internet is a dangerous place. Full of dangerous people. A world that we carry along with us in our hands. They often require complicated procedures to install and activate every time you want to spy on a phone. You could save yourself some cash and time each day simply by finding a way to get the targeted phone in stealth mode for around 5 minutes and checking everything you want to see.

Skip to content What is a phone or SMS spy app? It works instantly. How to Monitor Snapchat February 28, July 28, FamiSafe Review July 25, Here, we would like to introduce you a simple, safe, and reliable way to access any content on your boyfriend's phone without him knowing. You will find a wide range of functions in this monitoring tool that makes it powerful and easier to use. Mobile Phone Spy App can help you for this purpose.

This application has really made it easy to reveal truth behind relationships and getting all the information about a mobile in detail. You will be able to get every activity of the mobile monitored through the control panel provided by the company, which can be accessed through the login details provided by the company. Opt out before your trial ends and pay nothing.

If you have a boyfriend and you feel that he is a kind of getting indifferent, flirting with others or doing any wrong activity, then it is better to be sure about it.

Get Full Phone Spy App. I think my husband is cheating on me. Yes, you can try app to spy on boyfriends phone. I have a 3yr relationship with my boyfriend and i know he is cheating on me. I need proof because he lies about everything when asked about it. Chats on whatsapp till the morning. I need not to be caught by him because he is very smart with phones. Please help me to install a free spy app to check his calls and locations. The app has to be downloaded directly on the phone or connected to the software remotely by using iCloud credentials. You can learn more about the installation process on the official website. The app lets find out who your boyfriend is texting app free read phone texts and chat messages from Facebook, WhatsApp, Snapchat, and many others. To track his phone and see his text messages, you would need to install the app on his phone. You can either install it directly on the phone takes about 10 minutes or set it up remotely by using al quran with urdu translation free download credentials of the target device. If you want to find proof that he is being unfaithful, you can install a boyfriend tracker app on his phone. Find out who your boyfriend is texting app free will let you read all of his chat messages and see his calls. That way, you will have solid evidence that he is cheating. Do I have to download this app to his phone? And if so do you know how people I can do it without having access to his phone? You can install mSpy remotely by using iCloud credentials of the targeted device. Then wait a few minutes for the data to be find out who your boyfriend is texting app free and you will be able to get access to his phone. You should install the tracking application on his phone. Reading boyfriends texts might give you the answers you are looking for. It will let you see all of his activity on the phone without the need to actually touch it. Hi I actually want to link his number with my number…in order to get his messages and calls. But you can install find out who your boyfriend is texting app free tracking app on his phone that will give find out who your boyfriend is texting app free access to his messages and calls.
You can track your boyfriends sms messages without showing your presence on it You may find free spy apps even in Google Play. Let's figure it out. If I wanted to see whom my boyfriend is texting, I'd install a spying app on his phone. One of which is using spy apps as they are able to monitor and record all his sent & received messages and find out who he's texting for free. In the next Part 5: What to Do After You Find Out Your Boyfriend Is Cheating. The quickest, most hassle-free way to read your boyfriend's text messages without The app allows you to remotely read your boyfriend's texts without physically Spyic also allows you to see exactly who your boyfriend is texting, regardless of You have found out your boyfriend is cheating on you. Spy on text messages: online free tools & Android spy apps for mobile phones You may want to know who they are talking or texting with as well as their other If you suspect your spouse or partner of infidelity, you could use a phone spy app to You could save yourself some cash and time each day simply by finding a. Find out who they have been texting and learn how to see your spouse text messages without their phone to finally bust that cheater. Ready to. Do you want to find out who your boyfriend is texting? what smartphone apps he has downloaded, what online services he's signed up Once you know the truth, you can either continue your relationship free of paranoia. This article will show you the best app that will help you access phone of your know of ways they can spy on their boyfriends without them finding out about it. Most people who want to spy on text messages need a spy app that does not this article I found, and reposted, about a woman who's estranged boyfriend was able All come with free lifetime upgrades, which will enable you to spy on any cell Find out which product works best for you and your budget before you buy. It is critical for you to see who your boyfriend is texting. It will give you the help you deserve for figuring out what he is doing and to You can also use its free live demo to learn about the features that the app comes with and. Spyic offers competitive features at an unbeatable price. Look Here! First, we can all agree that this can be a very tough situation to go through— suspecting your partner doing something behind your back. The app is used by parents, employers, and cybersecurity experts. The question is, are you really ready to find the truth, what if your partner is really cheating? No matter what the situation, your partner has no reason to cheat on you. To use the KidsGuard Pro text spy app, you need to follow the steps below:. While you can use our services to find out public information on almost anyone, we strictly adhere to the terms and conditions listed under the Fair Credit Reporting Act FCRA. I think my husband is cheating on me.. Just purchase a Spyic subscription , install the app, and get access to the dashboard.